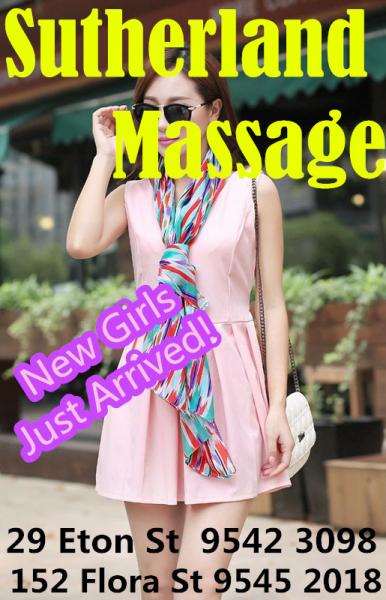 Business name: Sutherland 29 &152
Business type: Remedial massage
Phone: 9542 3098; 9545 2018
Location: 29 Eton St Sutherland NSW 2232
Website: View advertiser website
Business description:
▓♥▓♥▓♥▓$35 Massage with Beautiful Young Girl –Sutherland ▓♥▓♥▓♥▓
Hi Gentlemen
Welcome to Sutherland Massage. We have all new girls, now.
Shop 1
Address: 29 Eton St Sutherland, NSW 2232
Tel: ( 02 ) 9542 3098
Shop 2
Add: 152 Flora St Sutherland NSW, 2232
Tel: ( 02 ) 9545 2018


Lovely girls are well-educated, friendly & gorgeous from age 18-25, who are willing to look after all of our dearest customers. Every day we have 3-5 girls working at each shop. You can have even more time to spend with your favourite lady.
We offer Chinese full body oil massage, remedial massage, Thai massage and Swedish massage.
Our premises are quite & clean, with very nice rooms, comfortable massage beds and relaxing music.
Our price:
$35/30min
$50/45min
$60/60min
Open hours: 10:00am--7:00pm, 7 days/week
Some of our popular masseuses on the list:
Monday: Candy 20yo Asian sweet heart, hot body pretty look. Cola, 25yo Chinese lady, sunny smile with beautiful curve. Lily-New!!!! Sz 8, 23years old. Long hair & beautiful girl.She has a lot of experience.Her Service very popular. She has E cup. 
Tuesday: Gina 22yo Korea girl, part time uni-student. Ivy 21yo Taiwan girl, sweet smile with magic hands. Yaya,size6, 23years old. She is beautiful, has sweet small and sexy girl.
Wednesday: Suki 23yo Asian girl, long hair, sexy body. Ice, 25yo Chinese goddess, sensational touches. Saya -New! , 24 years old. She is tall and slim. very beautiful, friendly andelegant.
Thursday: Yoyo 25yo lovely girl, gorgeous look with gentle voices. Coco 23yo Malaysia girl, provides best oil massage. Nana -Thaisize 8, 25 years old. She has big boobs, very strong massage.
Friday: Miki 20yo Asian girl, new to market, passionate service. Wendy, Chinese girl who is keen to please you. Vivian- Sz 6, 23 years old. Very Beautiful girl and friendly also she does very good massage.
Saturday: Lulu 25yo, Chinese girl, nice body curve, sensational touches. Lisa 22 Singaporegirl, offers best exotic massage. Thaisz6, 22 years old. very slim and cute smile.She has very strong massage.
Sunday. Michelle 25 Chinese lady, wish to offer more. Sasha 21 beautiful girl, sweet touches for you! Riko -size 8, 24. She providesprofessional massage. She will look after you very well and she speaks very gracefully.