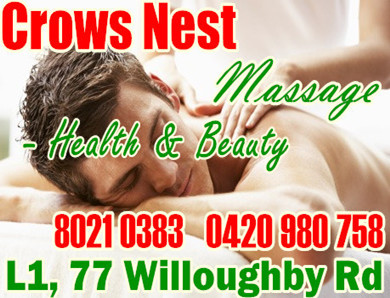 Business name: Crows Nest Massage
Business type: Remedial massage
Phone: 02 8021 0383
Location: Level 1, 77 Willoughby Rd Crows Nest NSW 2065
Website: View advertiser website
Business description:
NEW NEW NEW BEST MASSAGE in Crows Nest - Young Euro and Asian Beauties – Unforgettable Experience
Classy exotic C & H Massage Salon at Crows Nest
18-22yo attractive uni girls from Europe and Asia will provide you with an unforgettable massage experience
Nice private rooms with air con
Level 1, 77 Willoughby Rd Crows Nest NSW 2065
(Entrance on Holtermann St, near Mexican restaurant)
2hrs free parking at Holtermann St car park
TEL : 02 8021 0383
MOB: 0420 980 758
Please come in and relax with beautiful ladies for fantastic massage service! You deserve it!
We are the best massage shop in Crows Nest. Our shop has professional massage therapists and a friendly team of qualified masseuses who are committed to make your stay full of joyful satisfaction
Opening Hours: 10am-7pm (7 days)
Price:
30min / $40
45min / $60
60min / $70
Recommended:
Miya: (new), 18yo, Indian, size 6, slim little kitten, beautiful, very popular, top service
Gina: (new), 25yo, Colombian, tall, slim, busty, charming, good service
Alice: (new), 20yo, Swedish, golden hair, gorgeous, busty
Bianca: (new), 22yo, DD, Czech, tall, petty face, size 12
Tata: (new), 18yo, Thai girl, cute, small, pretty, babe doll.
Do you have aching neck, shoulder or back?
Do you have stress, tension or irritability in your life?
Do you need remedial or relaxation massage?
Do you just want to be cheered up or pamper yourself?
Come to C & H Massage Salon - let us bring harmony to your body, mind and soul
We also offer the following specialised massage:
• Aromatherapy
• Deep tissue
• Hot stone
• Pain relief
• Herbal treatment
• Weight management
STAFF REQUIRED